Seamless Display Tile With Fiber Optic Taper Array
A Seamless OLED/LCD array
Composed by pieces of OLED or LCD, and by using a fiber optic taper or faceplate. We can form a seamless display wall without complicate software configuration and it don't requires for a regular maintenance and calibration.
Generally,Large wall displays are very expensive. Especially when the display area is enough big, the reason is due to the increasing difficulty of producing large monolithic displays, a greater number of components must be defect free for large displays, and increased shipping, delivery, and setup costs. Tiling smaller display panels to form larger multi-panel displays can help reduce many of the costs associated with large monolithic displays.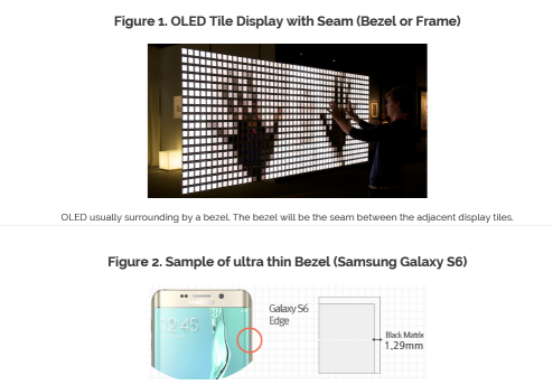 Bezel is a mechanical structure that houses pixel region in which the display pixels are disposed. In recent years, manufactures have reduced the thickness of bezel considerably to less than 2 mm. However, even these thin bezel trims are still very noticeable to the naked eye, distract the viewer, and otherwise detract from the overall visual experience.
Problem existing in current method for Making a Seamless Display
Although there are many approaches for making seamless displays such as display lensing, blended projection, stackable display cubes, and LED tiles.
Display lensing places a single contiguous lens in front of each display tile to present a fused borderless image in a particular "sweet spot." However, the viewing angle is relative narrow and image distortion along continuous lines still occurs.
Blended projection uses software stitching and mechanical mounting of traditional projection screens. Currently, blended projection uses relatively low cost hardware and is a good option for non-planar surfaces. However, there are significant physical constraints on usage and installation and requires regular maintenance and sophisticated calibration.
Stackable display cubes are a rear projection technology. Each display cube is relative deep and the seams between adjacent cubes are easily visible. LED tiles are arrays of discrete RGB light emitting diodes ("LED"). LED tiles can have virtually invisible seams, since the seams run between pixels. However, LED tiles are expensive and have large pixel pitches (e.g., 2 to 4 mm) resulting in low resolution images. Display tiling has benefits for both large and small displays (e.g., small folding displays).
Making Seamless Display with Fiber Optic Tapers
The fiber optic bundle (taper) include an input side and an emission (output) side. Fibers are extended between these 2 sides. The output area will be larger than input area. Magnification ratio could be ranging from 1.1x to 3x.
When disposing the Fiber Optic Bundle over display panel, bezel could be eliminated. Showed as following pictures.